SPIRITUALITY
Vincentians believe that Jesus Christ is not only God, but also truly human and at home in our world. When the voice of the poor calls, they willingly leave their prayers, or other religious practices, knowing that they are leaving God for God. They seek to honour, love and serve their truly human God by honouring, loving and serving the poor, the abandoned, the victims of exclusion and adversity.
Inspired by the compassion of Jesus Christ to all, Vincentians seek to be compassionate, kind and deeply reverent to all those they serve. With trust in God's help, they see their work as a continuation of Christ's own work. Vincentians express their love for God, and for all God's people, by the sweat of their brow and the strength of their arms. They seek to do this with gentleness and humility, striving to be selfless and genuine, yet passionate about the needs of the poor.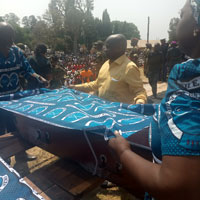 KEY KALUES
Vincentian core values they include commitment, compassion, respect, integrity, empathy, advocacy and courage. We are proud of the key values for which we stand and invite you to find out more on the Get Involved section of this website.
Commitment – Loyalty in service to the mission, vision and values.
Compassion – Welcoming and serving all with understanding and without Judgment.
Respect – Service to all regardless of creed, ethnic or social background, health, gender or political opinions.
Integrity – promoting, maintaining and adhering to our mission, vision and values.
Empathy – Establishing relationships based on respect, trust, friendship and perception.
Advocacy – Working to transform the causes of poverty and challenging the causes of human injustice.
Courage – Encouraging spiritual growth, welcoming innovation and giving hope for the future.
Structure of SSVP: Council International General
Territorial Zones

National Councils
Central Councils
Particular Councils
Conference and National Council of Zambia has 33 Central Councils
National Leadership:
President: James Lesa
Contact Number: 0971479043
Vice President: Henry Chansa
Contact Number: 0977891045
Mary Banda: National Secretary
Contact Number: 0977659075
Vice Secretary: Grace Chola
Contact: 0977755483
Treasurer: Osborne Hamajata
Contact Number: 0977762331